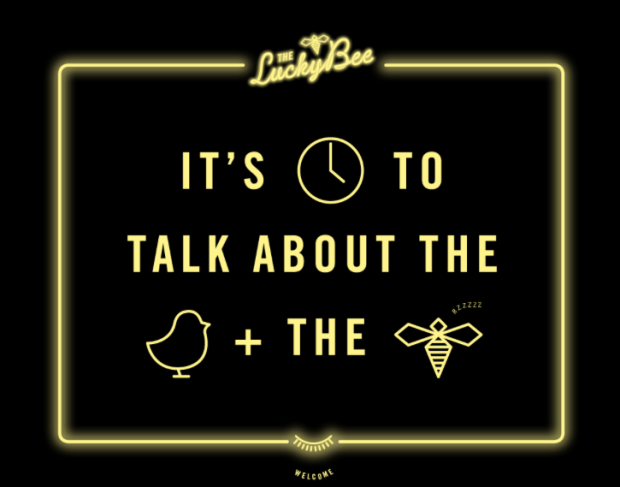 Before setting foot in the delightful new Lower East Side hot spot The Lucky Bee, you are greeted by a large hot pink glowing neon eye, an eye that seems to be almost winking at you, as if it knows you are in for a treat.
It's impossible to have a bad time in this animated atmosphere. Tropical New Wave seems to be the theme with an abundance of hot pink surfaces mixed with pop-art stripes, lush palm plants, modern lighting, pineapples, and the straw fans and jars of pickles lining the oyster bar. It's pop kitsch with a very pointed direction. (You have to check out the bathroom – it's Grace Jones themed).
The Lucky Bee specializes in Southeast Asian street food. The menu is small, but mighty. Composed of small and large plates, the food is meant to be shared. Each dish is packed with flavor and unexpected ingredients. Some menu highlights are the smashed cucumbers with dill pickle, fried peanuts, and coconut milk, the mussaman curry of lamb shoulder with kipfler potato and pineapple vinegar, and the green vegetable curry. The cocktails are made with New York local honey, and $1 from every "Karma Cocktail" will be donated to the New York Beekeepers Association. Even better, consuming for a good cause.
Get yourself down to 252 Broome St. for a splash of color and flavor.